FRUIT GRADING & SORTING MACHINES
Hi-Tech Tomato grading machines have a perfect understanding of your product, market and the specific wishes of your customers and are able to translate your requirements into an innovative tomato sorting and packing machine solutions. We do this based on more than 25 years of experience with in-house sorting and packing technology.
TOMATO GRADING MACHINE INFEED
With over 25 years of experience we are here to help you find the optimal solution for your specific use-case. With tailor-made solution for your infeed systems, we will enhance your operation, increase your production and decrease your maintenance costs.
TOMATO GRADING BIN/ BOX HANDLING
Whether you are looking for an automatic box or bin dumper, or prefer to feed your tomatoes manually to your grading system, HIGH TECH ENGINEERS will provide you with our state-of-the-art technology to help you achieve you goal. Our in feed systems will guarantee a very gentle fruit handling and will help you to achieve a homogenous flow of tomatoes towards your grader system.
There is growing demand for higher color and external quality. Color sorted is the heart of the sorting and packaging line. External aspects are the main components in the decision to purchase.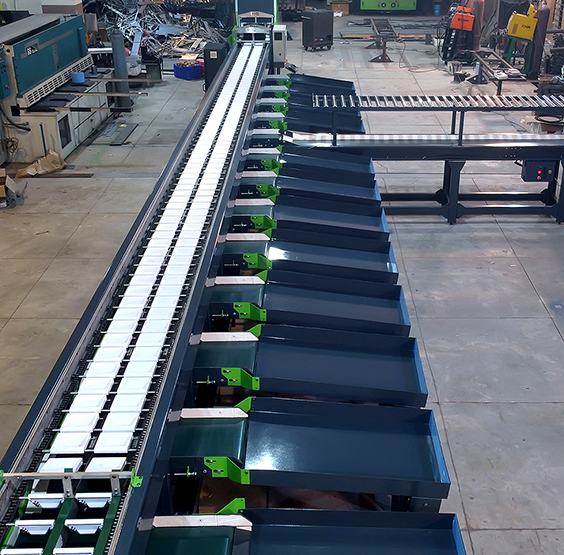 AUTOMATIC TOMATO GRADING AND SORTING MACHINE
The Cup Grader is specifically designed to handle Tomato. Thanks to the designed cups our automated simulator can align and rotate your Tomato without manual operators.
> Robust design, extra thick shafts
> Ensures perfect simulation
> Saves costs on labor!
> Optimal camera presentation

> Fruit friendly, quite, accurate
> Low cost in ownership
> Maintenance friendly

TOMATO PACKING MACHINE - COMMIT TO PACK
The Tomato Rolllin is your choice when it comes to a commit-to-pack line for your precious Tomatoes. The spreading V-belts guarantees a smooth transfer onto the carrier and from there the carrier's mid-positioned rotating axis ensures an even transfer to the brushes. The Rollin is fast, smooth and efficient.
> Patent design
> Robust design
> Spreading V-belts
> Perfect simulation

> Optimal camera presentation
> Accurate weight measurement
> Flexible design lay-out
> Automatic chain lubrication
> Automatic chain tensioning

TOMATO COLOR SORTING & EXTERNAL QUALITY
The Tomato Vision creates a full 3D representation of your Tomato. It works with a variety of user defined quality sorting parameters allowing each and every product passing the cameras to fit into a category. The Tomato Vision allows you to optimize batch quality and to add value by satisfying the needs of different markets. The Tomato Vision can detect:
> On-skin defects: Mechanical damage (light scars, limb rub etc)
> Through-skin defects: rot, sunburn, stem-end-rot and cracks
> Shape, size and color measurements

Hi-Tech Grading Machine manufacturers provides tailor-made solutions. An example being our line of unique and versatile packaging systems. Produce is packaged in accordance to the individual requirements of the customer (e.g. supermarkets and retailers). Options include crates, boxes, bags or pun nets. All packaging can be labelled with the date of production and all other desired information, enabling accurate tracking and tracing on an international level.
PACKING TABLES AND STATIONS
With our packing tables and stations you can achieve maximum productivity while packing your tomatoes in boxes, trays or any other packaging.
TOMATO GRADING MACHINE BIN/ BOX LOGISTICS
Looking for a way to increase your productivity? With our semi or full automatic box fillers you will be able to take your production to the next level.